How Resume Writing Has Changed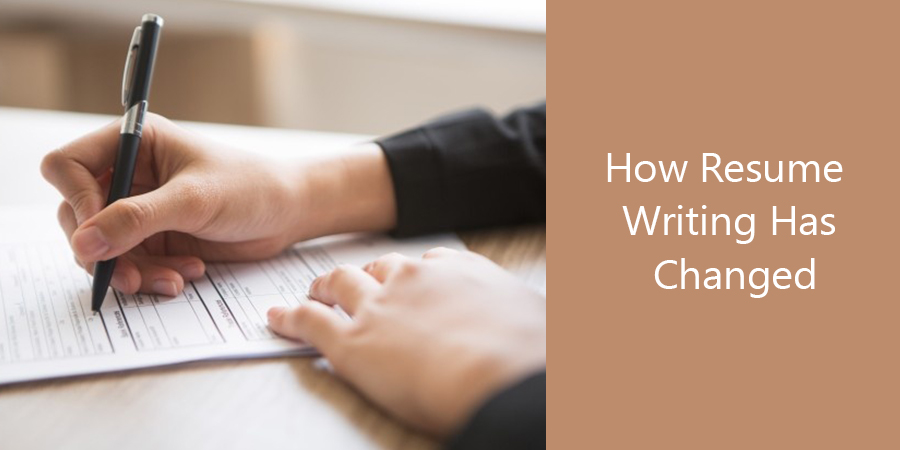 The best approach to resume writing in 2020 is certainly not the best approach to job application writing from 20 years ago. Resume writing has changed! Perhaps you are one of the lucky people who has been in the same job for a long time but, for some reason, the time has come to move on. The old way of writing a resume simply won't cut it anymore. Here are our tips for modernizing your resume to make it stand out today:
RESUME WRITING: KEEP IT BRIEF
In the past, a job application writer may have thought that quantifying their suitability for a job required a lot of explanation. The more information, the better. This is not the case now though. Your resume should be as brief as possible. Reading your resume should be like watching the highlights of a football match. You get a summary of the whole game in less than a minute. If it doesn't fit on one or (at most) two pages, then forget it. Therefore, focus on the most interesting and relevant bits. Also, give more space to your current or recent jobs, and less to the past. Include the things that are most relevant to the job you are applying for. With this in mind…
RESUME WRITING: DITCH THE UNNECCESARY INFORMATION
Resume writers these days don't include any information that is irrelevant. That includes your age, marital status, religion or nationality. This might have been the standard in the past, but it is now illegal for your employer to ask you this information so there's no need to include it. Also, focus on the skills and qualifications that make you a good fit for this position. Do not waste space listing your hobbies or interests, unless they point to desirable workplace skills and are relevant to the job you are applying for. For example, if you were applying to be an accountant, you wouldn't mention that you had been a soccer coach for ten years. However, if you were applying to be a personal trainer, you may mention it.
RESUME WRITING: INCLUDE WEB LINKS
Yes, you heard me correctly! All good resume writers have spent time creating a professional web presence. At the very least, you should have a fully completed LinkedIn profile and this should be featured prominently on your resume. If you don't have this, they your prospective employer will assume you are behind the times and this will hurt your chances of getting an interview. One warning though – only include your professional social media accounts. Your personal Instagram account with all those pictures of your kids won't help you.
RESUME WRITING: MAKE IT SUPER EASY TO READ
Lay-out and formatting is also super important. Given that most employers will merely peruse your work, looking for key words, job titles and major facts that show you are a good fit for the position, it needs to be laid out well. Use simple text in one modern, standard font that is easy to read, and that everyone can understand.
RESUME WRITING: GET SOME HELP
If you need really want to nail your resume, then consider getting some professional help. Red Tape Busters are specialists in resume writing and can help you produce a resume, cover letter and/or selection criteria that gets noticed. Visit https://www.redtapebusters.com/ for more information. Red Tape Busters are also specialists in providing the following services:
Lobbying;
Tender Writing;
Grant Writing;
Resumes/Job Applications;
Organisational/Business Development.
Contact us today! Please also "friend" or "like" us on Facebook https://www.facebook.com/RedTapeBustersShaneBowering, follow us on Twitter – Red Tape Busters or check us out on YouTube just search for Red Tape Busters.